How to clear the Documents menu.
Start bar settings explained.
Most people are confused what exactly the documents menu is. Let me explain it. Windows 95 added menu option as a convenience. What is does is keep track of the last 15 documents, pictures or files you have opened. It is a short cut to the most recently used files. If you clear the continence of the documents window you do not delete the file or program just a shortcut to that file or program. The one annoying thing about the documents window is if you delete a file there will be a shortcut in the documents window until you clear the documents menu.
Hit the start button then go to documents as in example below. What you see is an example of the documents menu in my computer yours will be different.

As you can see there are shortcuts in the documents menu and I would like to empty this menu. To empty the documents menu follow directions below.
After you clear the menu it will look like this.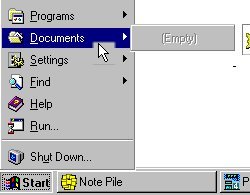 Now I will show you step by step how to clear the Documents menu.
1st Press START ,move mouse up to SETTINGS then click TASKBAR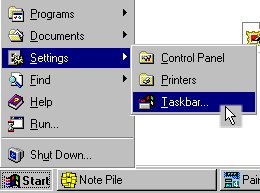 When you click TASKBAR the menu below will come up.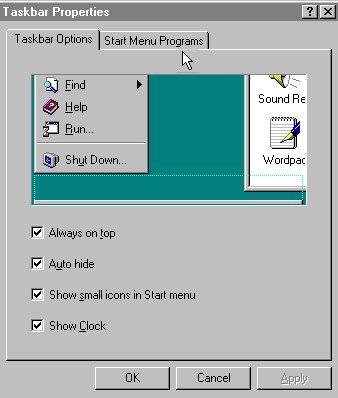 If this is your first time here let me explain the other options in this menu before we go to the START MENU PROGRAMS TAB.
Near the bottom you will see four check boxes, I will explain each check box for you.
ALWAYS ON TOP. If you check this, the start menu will always be on top of any application you are using. This check box should be checked. Sum advanced users hide the menu but for the beginner you should have this checked.
AUTO HIDE. If you check this box the start menu disappears below the screen, to make it reappear you just have to move the mouse down to the bottom of the screen and it should pop up. I like to make the start menu auto hide because some time it gets in the way of scroll bars when you are surfing the net and using other programs. Click and try is to see if it works for you.
SHOW SMALL ICONS IN START MENU. This if for the start menu, if it is not checked you will have to big icons. Below are two examples of what is will look like depending on what option you set your computer for.

On the left are small icons. On the right are the big icons.

The last option is SHOW CLOCK. All this option does is show the clock in the lower right corner of the start menu. If you don't want the clock you can un check the box.
Now lets move on to the reason we are here to clear the documents menu.
Click the tab on top for
START MENU PROGRAMS. Example below.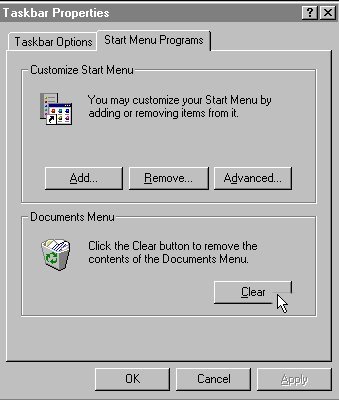 Near the bottom is the Documents Menu. All you have to do is press the clear button. This will clear the documents window, remember this will not delete any files from your computer just the shortcut to the file in the documents window.
BACK